Seating Arrangements Matter
Are the participants facing each other?
Or are the partcipants facing a speaker behind a lectern?
The layout of a meeting room determines how participants interact and how they understand the role of the person chairing the meeting.
The general rules for interaction are:
More interaction and discussion between participants when they can look each other in the face.
More interaction and discussion when participants are close together.
Participants are more passive when they are further apart and cannot see each other's face. 
The general rules for position of the person chairing the meeting are:
Chair is on the podium behind a lectern or table: emphasizes the authority of the chair and makes participants more passive.
Chair is one of the persons around the table:  emphasizes that the chair facilitates the meetings and makes the participants more active.
Layout variants for seating 60 participants
iOne possibility is to arrange the tables as a series of nested U-shapes. The inner U should not seat more than 25 persons. 
This maximizes the number of participants that will fit into the room such that the most active participants can see each other.
The chair can sit at the side (position A) or in the center of the inner U (position B). I usually prefer position A because you can better see the people at the back of the room.
You can arrange the tables in a similar fashion when the meeting room is wide.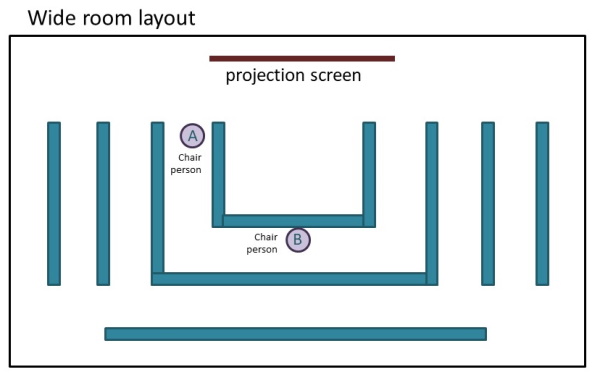 The advantage of a single large U-shape is that all participants can see each other. The disadvantage is that they are very far apart. It is also a inefficient use of space. You will need a very large conference room to accommodate 60 participants.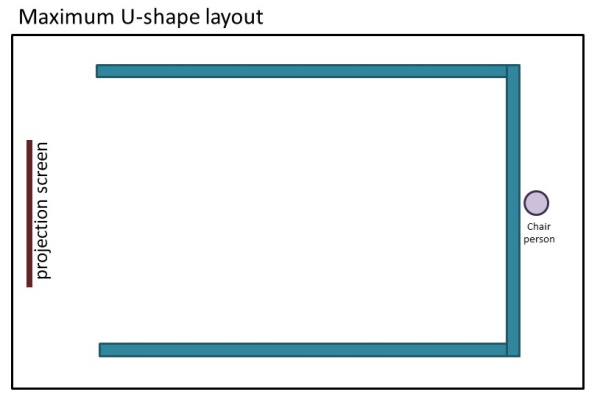 A "theatre" layout creates the perception of a lecture. I would use this only for series of presentations with a Q&A between speaker and audience. This layout is not ideal for getting participants to discuss amongst themselves.